Lecture Aroused Emotions
A presentation by Prof Bernard Mbenga aroused emotions among the audience when he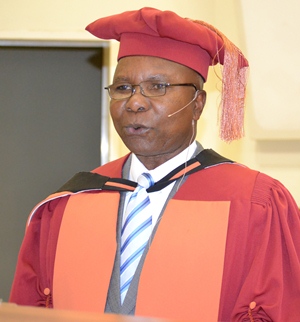 discussed "the participation of the Bakgatla ba Kgafela of Rustenburg district in the South African (or Anglo-Boer) War of 1899-1902" which was the topic of his Inaugural Lecture. 
The lecture, presented on 7 August, was attended by the NWU Mafikeng Campus management and about 300 academics and students as well as dignitaries from the Bakgatla ba Kgafela Clan such as Kgosi Nyalala, John Molefe Pilane of Bakgatla ba Kgafela, former MECs, Mr Darkey Afrika and Mr Pitso Tolo.
For the young generation that attended the inaugural lecture, this was not only an eye opener, but they were also taken back to some of the unspoken facts of the Anglo-Boer war.  It installed a sense of pride about their history, as Prof Mbenga explained the role of racial grouping during the war and the critical role the Barolong Bo Ratshidi in Mafikeng played in the British victory in the famous Siege of Mafikeng. He used an example of the Bahurutshe of Kgosi Moiloa in Lehurutshe that took up arms and fought actively on the British side.  Other examples he highlighted was the Bapedi and Shangaan/Vatsonga societies in the former Eastern Transvaal, today Mpumalanga, who played a pivotal role on the British side against the Boers as well as the Zulu communities of the Vryheid District that had joined the British against the Boers. 
Some members were left intrigued to learn that their ancestral clan also participated in what is well- known as the Anglo-Boer war when he raised the fact that from 1902 right up to 1970, historical writings on the mistermed "Anglo-Boer" War had perpetuated the myth that the war was a "White man's war," which did not involve Africans.
The question of who is the Bakgatla ba Kgafela framed his inaugural lecture and left the elders of the Bakgatla ba Kgafela clan reminiscing about what their ancestors have told them about their roots. He took everyone down memory lane and shared the rich history, culture and background of this tribe.
Everyone agreed when the Campus Rector, Prof Maselesele, in her closing remarks, said that Africa needs Africans who can promote, embrace and write about their cultures, traditions, roots and history.  "A nation without history is lost".