Law faculty hosts Judge of Supreme Court of Appeal
As part of a series of prestige lectures, the Faculty of Law at the North-West University's (NWU's) Mafikeng Campus, hosted Judge Lebotsang Bosielo who is a Judge of the Supreme Court of Appeal. 
The lecture took place on 13 October on the Campus and was attended by a number of students from the Faculty of Law. 
The lecture, titled 'Separation of powers, Judicial Independence and Judicial Accountability', was the second prestige lecture by Judge Bosielo, which forms part of a series of lectures at various institutions of higher learning by the judiciary.  The aim is to engage public thought as well as to educate the public on the structures and mandate of the judiciary as an independent body of law in the country.
During his opening remarks, the Executive Dean of the Faculty Prof Melvin Mbao compared Judge Bosielo to what Charles Dickinson wrote in his novel: "we have a spring of knowledge from which we should drink".  "Today, we have the opportunity to listen to one of the finest lawmakers of our time".
Judge Bosielo commented that with the start of democracy, we were given the bill of rights and the constitution.  But it means nothing to the general public if they cannot enjoy the powers enshrined in both these documents and be shielded by it.
"As law practitioners, we live well cushioned lives, while the very people we are entrusted to protect are denied reasonable the access to a court of law. That must change", Judge Bosielo concluded.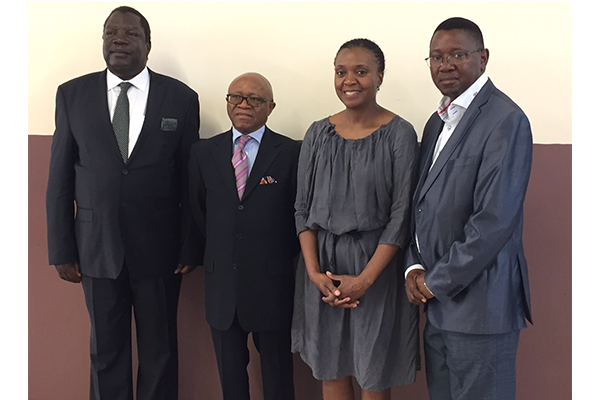 fltr: Prof Mbao, Executive Dean, Judge Bosielo, Dr Morei, School Director
and Prof Lalendle, Vice-Rector, Teaching, Learning and Quality Assurance