Kick-start your career with a Policing Practice degree from the NWU
Officers in the SAPS, traffic, metro and military police and the security industry as well as people working towards safeguarding rural communities can now enhance their careers with a bachelor's degree in Policing Practice from the North-West University (NWU).
The School of Social and Government Studies on the Potchefstroom Campus of the North-West University brings, by means of open distance learning, further training to the policing profession through a three-year bachelor's degree.
You can now enrol for a BA degree in Public Governance with Policing Practice. There are no closing dates for applications. The costs are R18 500 per annum if the student registers for all the modules per academic year. To ease their financial burden, policing officials with a Persal number can pay off their study fees by means of a monthly deduction from their salaries through Eduloan. This alleviates the necessity to apply for a study bursary or to arrange for alternative financial resources in order to pay for their university education.
Learning support and contact classes will be delivered by means of Interactive Whiteboard Technology, broadcasted to 58 learning centres countrywide. Internet and telephonic support are also available to assist students with their studies. Examinations are written at NWU examination centres nationwide. Tuition at open distance learning centres will be conducted in English only.
Management is a recognised and an essential skill at all levels of public and private policing. This degree programme was especially developed to ensure that participants acquire the knowledge and skills needed to manage policing initiatives and operations at junior, middle and senior managerial levels with the emphasis on service excellence.
Access to this qualification is open to learners who have obtained their matric or Senior Certificate or National Senior Certificate (Grade 12 at NQF Level 4) with university exemption. Students older than 23 years whose matric certificate, Senior Certificate or National Senior Certificate (Grade 12) was obtained without university exemption can apply to the Matriculation Exemption Board/Higher Education South Africa (HESA) for university exemption.
Confirmation was obtained from Major General Nyalungu, Divisional Commissioner – SAPS Training that the SAPS will continue to encourage their members to study at any university of their choice and the SAPS will continue supporting them through bursaries as and when deserving.
The BA in Public Governance with Policing Practice is also aligned with the Bachelor Police Practice degree developed by the SAPS for its members as well as the SAPS in-house junior and middle management courses presented at the Paarl Training Academy. Policing officers who successfully completed either the bachelor's degree in Police Practice or the management courses presented in Paarl can therefore be considered for accreditation and/or Recognition of Prior Learning (RPL).
For more information and application forms, contact Ms Santie du Plessis at 018 299 4548, email address santie.duplessis@nwu.ac.za, during office hours. You can also call the Call Centre at 018 285 5900 or email distancepotch@nwu.ac.za.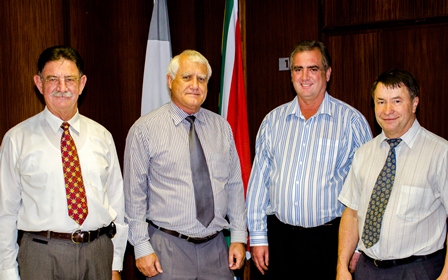 Proff Coen Marais, programme leader of Policing Practice, Manie Spamer, Director of the Unit for Open Distance Learning, Herman van Schalkwyk, Rector of the Potchefstroom Campus and Jan Swanepoel, Dean of Arts during a discussion on the implementation of the programme