Kazeny's graduation journey from Harvard to NWU
It was a big day for all BEd Foundation Phase degree graduates at the Autumn Graduation Ceremony of the North-West University's (NWU's) campus in Vanderbijlpark, but even more so for young Kazeny O'Neill – top achiever of the BEd Class of 2016.
Upon being called back to stage to receive her award for excellent academic achievement, Kazeny stood humbly on stage while the director of the School of Educational Sciences, Prof Elsa Fourie, continued to read her biography to the audience.
Kazeny was born in Bloemfontein but spent her childhood in Gauteng. She finished her high school career at Green Acres Private School in Meyerton where she already stood out as an academic achiever and attended a Leadership programme at Harvard University in Boston in the USA in 2011.
In 2013 she enrolled for her degree at the campus in Vanderbijlpark. Four years later she graduated top of her class after passing 54 of her 63 prescribed modules with distinction. During her time at the university she was one of four students who visited the Netherlands' Korein Kinderplein Institute of Education and she maintained an 82,38% average throughout her studies.
Kazeny is currently teaching Grade R at the Waterstone College. She has her eye on obtaining an honours degree in the future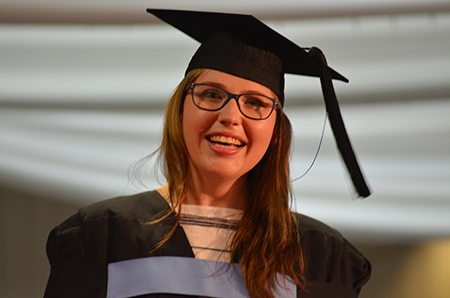 Kazeny O'Neill