Jan Pieterse – a master of many trades
Jan Melchior Pieterse is a born achiever – and the recent Autumn Graduation Ceremony of the North-West University's (NWU) campus in Vanderbijlpark bears testament to this.
On 11 May 2017, Jan not only received a BCom degree in entrepreneurship and business management, but also the coveted Excellent Academic Achievement Award for his overall best performance within the BCom field of study. What makes this achievement so extraordinary is that while working full-time as a trainee chemical engineer at Sasol, Jan took up his studies at the university on a part-time basis.
More about Jan
After enrolling at the university in 2014 as a part-time student, Jan worked diligently to complete the degree within the minimum prescribed period of three years and passed 24 of the 26 prescribed modules with distinction. During the duration of his studies he maintained an average of 85,3% and received several rewards as a top-performing student. He was awarded membership to the Golden Key International Honour Society from his first year of studies.
Jan is currently employed by the Business Development Department at Sasol and he is enrolled with the HULT International Business School's Global MBA programme which is set to commence in September at the London Campus.
A second waltz as a university student
Jan enjoys a lengthy relationship with the NWU that dates back to 2008 when he first enrolled at the university's campus in Potchefstroom for a Bachelor's degree in chemical engineering. He graduated as an engineer in 2012.
He completed his secondary schooling at Evander High School and matriculated in 2007 with distinctions in mathematics and English.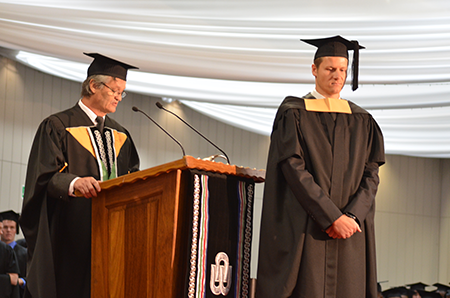 Prof Wynand Grobler and Jan Pieterse.