IT students 'scrum' with industry experts
The importance of industry exposure for university students cannot be over emphasised.  Not only does it allow students to apply their knowledge to real-life situations and problems, but it also bridges the perceived gap between academic theory and technical application.
A group of Information Technology (IT) students from the North-West University's (NWU's) campus in Vanderbijlpark recently donned their industry hats and visited Britehouse, a division of Dimension Data in Bryanston, Johannesburg.
The aim of the visit was to allow the students to take part in Britehouse's two-day Product Increment (PI) planning sessions. These sessions are also referred to as the 'scrum of scrums' since all Britehouse staff members take part in brainstorming sessions to gather insights for an array of projects. Scrum refers to an agile process framework for managing complex knowledge work to develop and manage software projects.
In preparation for the sessions, the group of students – consisting of three final-year undergraduate students and three postgraduate students – were given an imagined product study to prepare for a scrum session with the industry experts.
According to JT Janse van Rensburg, the lecturer who coordinated the visit, the preparation and subsequent scrum did not only see industry learning taking place, but also peer learning since the postgraduate students shared their existing knowledge with the final year group. During the exercise the students had to choose different scrum roles and Cornelia Venter was chosen as the product owner and Yvonne Pitsane as the scrum master. Every two hours Cornelia and Yvonne had to present their concept progress during a scrum of scrums session with the experts.
To end the day, Ilze van As, Britehouse release train engineer, made sure the group of students got to interact with all scrum teams and they had the opportunity to learn more about Britehouse's different projects and the technologies being used in the product development sphere.
According to JT visits such as this one is of cardinal importance when it comes to not only quality assurance in terms of teaching and learning outcomes, but also in adding value to prospective employers.
"Our students need to be responsive to industry needs and their skills levels should speak to innovation and critical thinking capabilities," says JT and reiterates the importance of industry experience as a gateway to employment.
"Without experience – or industry collateral - many graduates find it difficult to attain employment or first have to undergo additional training before being employed."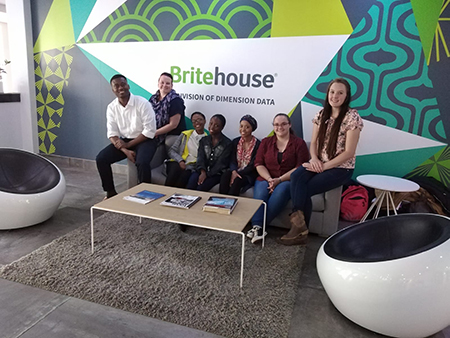 From left to right are Lungelo Masondo, JT Janse van Rensburg, Bontle Moloi, Hlatsi Moloto, Yvonne Pitsane, Vanessa Rufo and Cornelia Venter.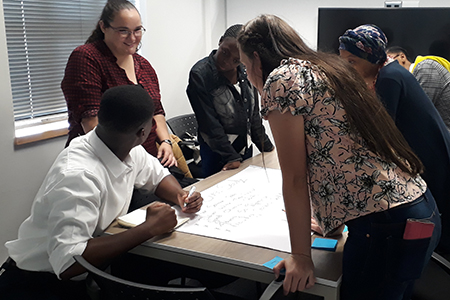 The students hard at work on their project development plan.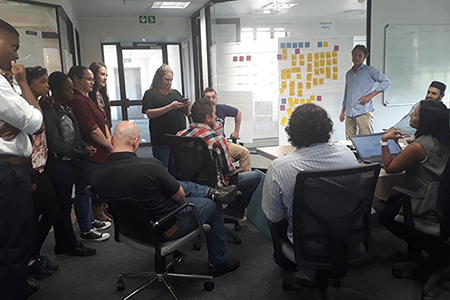 The students learn more about the scrum process by watching Britehouse staff engaging on a project development plan.