International students conduct research in North West
Six students from the Netherlands have just arrived at the North-West University (NWU) to do research in collaboration with the Tlokwe Municipality.
The students of the University for Applied Science in Utrecht, the Netherlands, will focus on research on waste management, social housing and urban planning.
According to the director of the Unit for Environmental Sciences and Management, Prof Nico Smit, the agreement with the university in Utrecht (UU) was entered into about four years ago. It entails that selected students visit Potchefstroom to do research for their final year theses.
Two students, Vincent Meijer and Tim Bleeker, will focus on the evaluation of processes and logistics in respect of the management and removal of waste within the municipal area of Tlokwe. Peter Nameleers and Kiki Wesseling will explore the best practices for the establishing of an accredited, functional and sustainable social housing institute that the North West Province can benefit from.
In their research Nando Zwambag and Rosalie van Lohuizen will focus on the compilation of detailed guidelines for the restructuring of the N12 within the urban area. They will also look at the improvement of safety, security, facilities and aesthetic factors incident to this road.
An entire team of experts will assist them. They are Messrs Hendriko Veldman, Ben Robbertse, David Thibedi, Laws Mohlomi, Lukas Esterhuizen, Ms Patience Moreetsi and Ina Stolz of the Tlokwe Municipality, as well as Profs Nico Smit, Kobus Pienaar, Dr Juaneé Cilliers, Ms Shernice Soobramoney and Senta Berner of the NWU.
The students will conduct research in the city up till 12 December.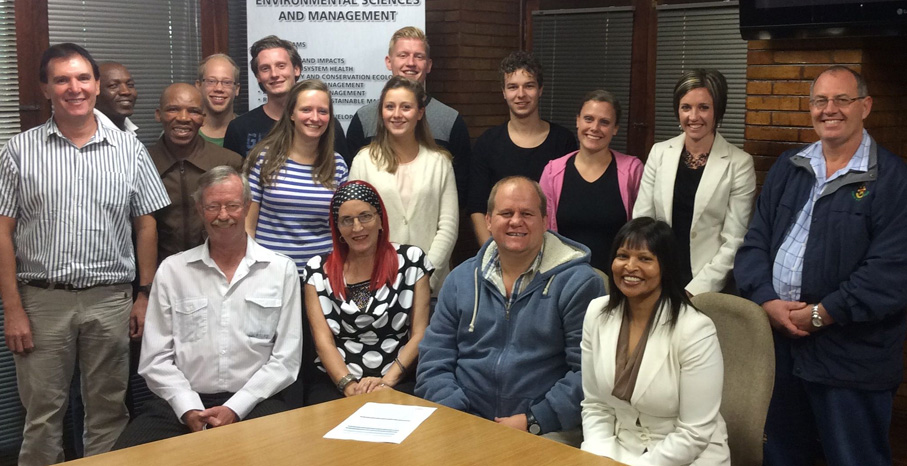 PHOTO: Here are the students and the experts that will assist them. In front are Mr Ben Robbertse (Tlokwe), Ms Ina Stolz (Tlokwe), Prof Nico Smit (NWU) and Ms Shernice Soobramoney (NWU). In the middle are Hendriko Veldman (Tlokwe), Kiki Wesseling (student), Rosalie van Lohuizen (student), Senta Berner (NWU), Dr Juanee Cilliers (NWU) and Mr Lukas Esterhuizen (Tlokwe). At the back are Mr David Thibedi (Tlokwe), Tim Bleeker (student), Vincent Meijer (student), Peter Nameleers (student) and Nando Zwambag (student).