Innovation in public administration is Prof Hofisi's motto
It was Albert Einstein who said: "If at first, an idea is not absurd, then there is no hope for it." Prof Costa Hofisi from the Faculty of Humanities of the North-West University's (NWU's) campus in Vanderbijlpark fully agrees with this statement. During his recent inaugural lecture, he argued the value of such "absurd" ideas, namely innovation, to be utilised in bettering public administration.
Prof Hofisi explained that innovation is of vital importance to the public sector, and that it could bring much needed customer centricity and efficiency to the service delivery realm. 
He also added that it could raise responsiveness and lower costs, while delivering a personalised service, which as a whole will certainly see to improved customer experiences. "Innovation is absolutely necessary for effectiveness and efficiency of the public sector," said Prof Hofisi.
Types of innovation
The concept of innovation can mean many things. Prof Hofisi explained that innovation may occur on product, service, process and strategic levels, as well as in governance, rhetorical and system interaction. All of these fields represent ways in which innovation can bring about dramatic change.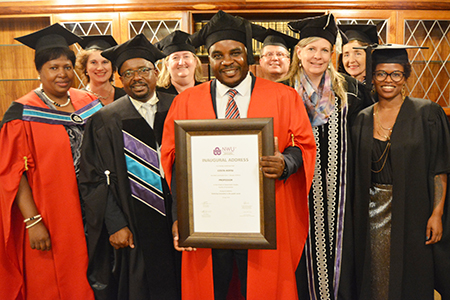 Prof Costa Hofisi with members of the academic procession at his recent inaugural lecture. In the front row from left are Prof LB Mzini, Prof MC Masige, Prof C Hofisi, Prof LA du Plessis and Ms N Lembethe. In the back row from left are Prof L Vermeulen, Prof S Coetzee-Van Rooy, Past H van Wyk and Prof E van Eeden.
Fostering innovation
Prof Hofisi put forward that citizen-centred policy formulation and implementation, as well as long-term planning, will go a long way towards fostering innovation in the public administration sector. Another important consideration is the role of leadership within the sector. Senior management needs to be involved and the political leadership must be appreciative and supportive.
The design of the organisation and process also contributes to the fostering of innovation. An organisation which is strong and vested must be created to ensure customer centricity and a connected government. Technology is instrumental for ensuring transformation, but it is only a means to an end. He said that People and Culture also has an important role to play, inculcating a culture of citizen centricity and building internal capacity, while focusing on talent management.
Weak enabling factors or unfavorable framework conditions, a lack of innovation leadership at all levels, as well as a limited knowledge and application of innovation processes and methods all contribute to a culture that is not conducive for innovation. Innovation within public administration will result in new and improved ways of improving public value.
More about Prof Hofisi
Prof Hofisi holds a PhD and master's degree in public administration, an honours degree in politics and administration, a postgraduate diploma in higher education and training and another postgraduate diploma in monitoring and evaluation. 
He is also a certified assessor and moderator, and has more than 10 years' experience in teaching, research and postgraduate supervision. He is a member of the editorial team of the Journal of Public Administration. He has been contracted by the new National School of Government to develop modules and facilitate the delivery of modules for various national and provincial government departments.