Huge hockey feather for NWU's cap
The International Federation of Hockey (FIH) announced that the North-West University (NWU) will host the 2021 Junior Women's Hockey World Cup in Potchefstroom.
Although no dates have been confirmed it is a massive coup for both the NWU and the city as the ninth iteration of the tournament – which started in 1989 – will draw players from 16 countries.
This is all thanks to the hard work that the NWU's director of sport on the campus in Potchefstroom, Sheldon Rostron, and his team put in to the bidding campaign.
"We visited the FIH early in February last year to find out what it will take to host an international hockey tournament," says Sheldon. "This tournament is the ideal opportunity to show that we are more than able to host a senior international hockey tournament as well. It is also an opportunity for us to showcase our facilities, our way of presentation and the quality of our staff.
"Our close working relationship with the JB Marks city council and North West province is also excellent and went a long way to ensure we got to host the tournament."
The NWU's Astro Turf will hopefully be a happy hunting ground for national coach Lenise Marais and her team, as they hope to become the first African team in the tournament's history to claim top honours.
 "Since teams from Africa always play far from home, local support and a home advantage can only help our team," says Sheldon. "This is a first for Africa and South Africa and an opportunity for us to leave a legacy."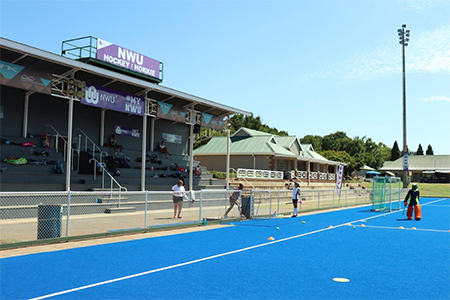 The NWU will host the 2021 Women's Junior Hockey World Cup. Photo: Wouter Pienaar, Potchefstroom Herald