How resilient are SA's female entrepreneurs?
South African policy makers and researchers are in agreement: a thriving small, medium and micro enterprise (SMME) sector is the key to job creation, economic sustainability and ultimately positive growth. With the National Development Plan (NDP) predicting that by 2030 SMMEs will generate 90% of the 11 million new jobs targeted, the future could be very bright.
This is despite the challenges entrepreneurs, especially female entrepreneurs, are facing.
Focusing on female entrepreneurship
Natanya Meyer, lecturer in the North-West University's (NWU's) Faculty of Economic and Management Sciences – and an entrepreneur herself – is investigating the situation of female entrepreneurs for her doctoral study. Bearing in mind the challenges faced by entrepreneurs, the question she has been seeking to answer is this: What factors influence South Africa's female entrepreneurs' intention to remain in business?
Natanya explains that entrepreneurship is of critical importance to a developing country such as South Africa where poverty and high unemployment rates prevail. In fact, she believes that female entrepreneurship specifically offers a solution to unlocking stagnant economic growth.
"Females constitute more than half of the world population and as such their role as entrepreneurs should not be disregarded," she says, explaining that female entrepreneurs have a ripple effect on development, as they will typically invest more money in the health, education and general well-being of their families and communities than their male counterparts.
Through her quantitative research approach, which included a descriptive, single-sample cross sectional design, she determined why female entrepreneurs decide to remain in business rather than returning to formal full-time employment. She subsequently also identified the factors that inform this sense of resilience.
Natanya gathered the data she needed by using a questionnaire that was pre-tested and piloted beforehand. It consisted of 12 sections containing various constructs on entrepreneurial attitude, intention and growth. The final two sections of the questionnaire focused on the respondents' (female entrepreneurs) demographical location and business information. Respondents were from all nine provinces and the final sample totalled to 510 usable questionnaires.
Findings highlight resilience
The main findings from this study suggest that South African female entrepreneurs have a positive attitude and resilience towards remaining in – and ultimately growing– their own businesses, regardless of the challenges facing them.
According to Natanya, the key predictors of female entrepreneurs' intention to remain in business are their attitude towards growth factors and their internal motivations, which include aspects such as independence, work-life balance, pursuing a challenge, societal contributions and family security.
"What was very interesting to learn is that factors such as previous full-time work experience, marital status and children did not result in any significant deviation in terms of the results," says Natanya. She explains that the study definitively proves that internal motivational factors have the most impact on female entrepreneurs.
Value of the study
Prof Babs Surujlal, the promoter of the study, says Natanya's research adds valuable new insights to the existing body of knowledge on female entrepreneurs. The research will furthermore assist in the development of policies directed at female empowerment, job creation and business development.   In short: a guiding roadmap for female entrepreneurs.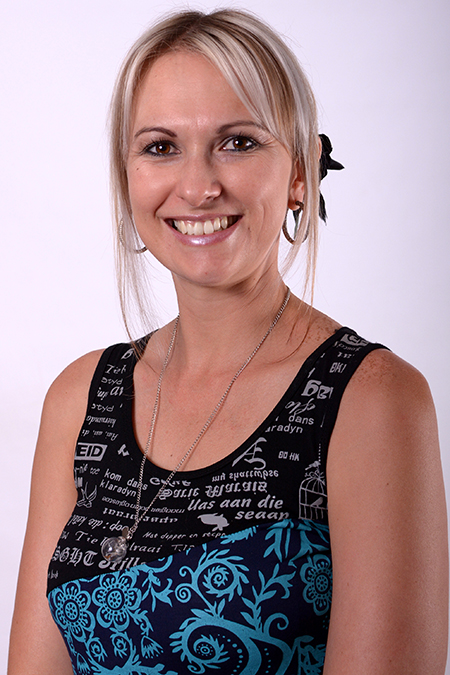 Natanya Meyer.