Getting real about snake shenanigans and monkeying around
With more than 3 000 species of snakes and at least 94 species of monkeys on the planet, the chances of finding one in your home or workplace are very high.
The North-West University's (NWU's) Department of Arts recently held a workshop for the staff members of the Nooitgedacht farm on the safety measures they should take when confronted by these animals.
Nooitgedacht is located 35km outside of Potchefstroom, with beautiful lush greenery next to the Vaal River, and snakes and monkeys are happy residents.
Rene Jordaan from the Griffin Eco Centre facilitated the session on monkeys, while 14-year-old Arne Hobbs, a registered snake catcher and conservationist spoke about snakes.
"It's important for us to not only create a safe environment for visitors at Nooitgedacht, but also for the animals that live there," says Jaco van der Walt, senior manager of NWU Arts.
"We believe that knowledge is power, and therefore we train our staff to identify dangerous snakes and what to do if a person gets bitten."
No monkey business
"Most monkeys in urban areas are used to human interaction and are rarely startled by us," says Rene. "When you are confronted by a monkey, the best thing to do is to not turn your back on it and to walk away slowly while looking at it."
She says that if you get bitten by a monkey, you have to stand still until it lets go of you. "If you move, you stand a greater risk of getting bitten more than once. Most importantly, you should get a tetanus shot."
Rene discourages people from getting a dog to try and solve their monkey problem, because the two animals will hurt each other. She says it is a better idea to rather use plastic snakes or water cannons to scare them off.
Snakes are important
According to Arne every animal has a role to play within the environment; and snakes control rat and mice populations.
He urges people to not try catch or kill a snake, but to rather call a snake handler.
"If you find a snake in your personal space, take off your t-shirt and throw it at the snake so it covers the reptile. Then keep watch over it as you call a snake handler to come and remove it. Covering a snake creates a safe space for the reptile and ensures that it does not move," he says.
He also advises people not to touch snakes that appear to be dead, because some snakes pretend to be dead when they sense danger.
"If you are bitten by a snake, do not waste your time – you need to get to the nearest hospital as soon as possible."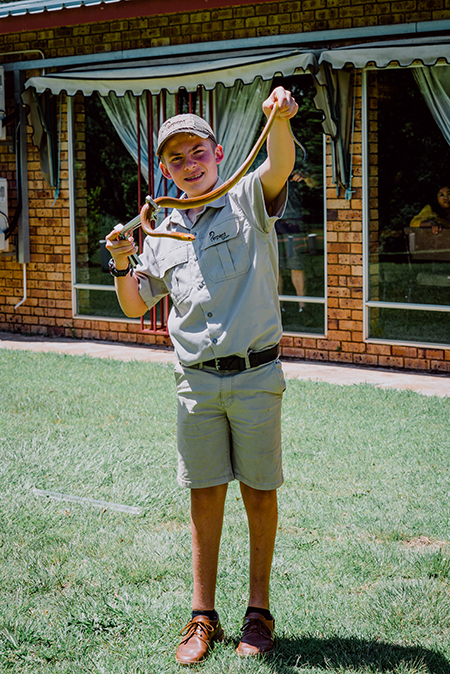 Arne Hobbs is a registered snake catcher and conservationist.