Education Sciences honour achievers with postgraduate bursaries
Postgraduate bursaries of approximately R900 000 were awarded to deserving education students of the North-West University's (NWU's) Potchefstroom Campus.
The Queen Mother of the Royal Bafokeng, Semane Molotlegi, said during the ceremony that she regards education as the mother of everything. "Without education people are nothing, and without cooperation we are lost."
She told the students that they were receiving assistance now, but that that they would have to pay some of that back in their service to others. "People must also stop blaming others and point fingers when things go wrong. We should rather take hands and help to find solutions for problems ourselves."
The Queen Mother's bursaries were awarded to Chanel Streicher in Education Management (supervisor Prof Lloyd Conley), Khumbuzile Maseko in Learner Support (supervisors Dr Dumisile Mkhize and Prof Rosemary Cromarty) and Cherine Pretorius in Natural Sciences Education (supervisors Prof Josef de Beer and Dr Lounell White).
These master's degree bursaries amount to R80 000 each for 2016.
Three Sol Plaatje faculty bursaries for doctoral studies (R100 000 per year for two years) were awarded to Henry Blignaut in Curriculum Development, Innovation and Evaluation (promotor Prof Robert Balfour), Leonie Labuschagne in Mathematics Education (promotor Prof Marthie van der Walt) and Camy Reddy in Natural Sciences Education (promotors Prof Josef de Beer and Dr Neal Petersen).
The dean's Prestige bursary for doctoral studies was awarded to Gui Braun in Philosophy of Education (supervisor Prof Ferdinand Potgieter). This bursary amounts to R140 000 per year over two years.
The recipient of the dean's Prestige bursary for master's degree studies is Lizanne de Villiers in Natural Sciences Education, with Profs Josef de Beer and Aubrey Golightly as supervisors. This bursary amounts to R120 000 for one year.
The MEd bursary from ETDP/SETA in Early Childhood Education was awarded to Annie Kersten, who will focus on learner support, with Prof Rosemary Cromarty as her supervisor. She was also the recipient of the bursary in 2015.
• The presentation of the bursaries was preceded by a colloquium of approximately forty master's degree and doctoral students. These students had the opportunity to share some of their findings with one another. The guest speaker at the event was Prof Kobus Maree of the University of Pretoria, who informed them about the promotion of the language of teaching discourse with the personal implications of the addressing of issues of power, politics and innovation.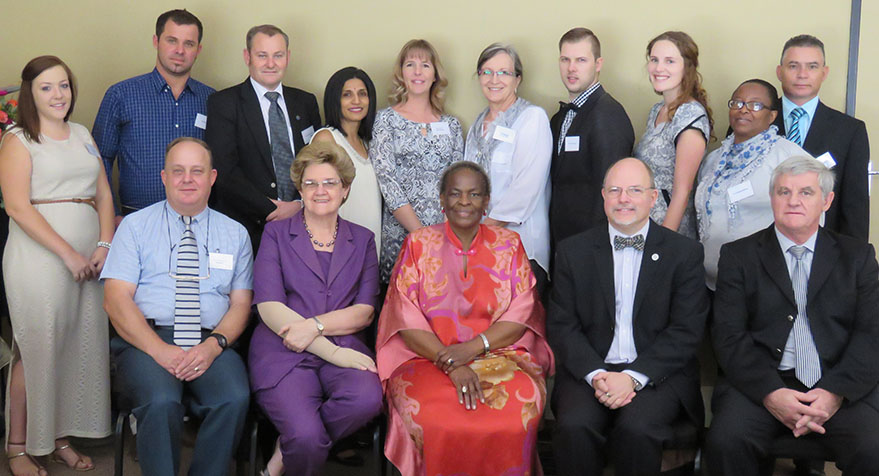 In front are Profs Ferdinand Potgieter, Susan Visser (vice rector Research and Planning), the Queen Mother, Semane Molotlegi, Profs Robert Balfour (dean of the Faculty of Education Sciences) and JP Rossouw (research director). At the back are Lizanne de Villiers, Dr Gui Braun, Prof Josef de Beer, Camy Reddy, Leonie Labuschagne, Prof Marthie van der Walt, Henry Blignaut, Annie Kirsten, Dr Dumisile Mkhize and Dr Neal Petersen.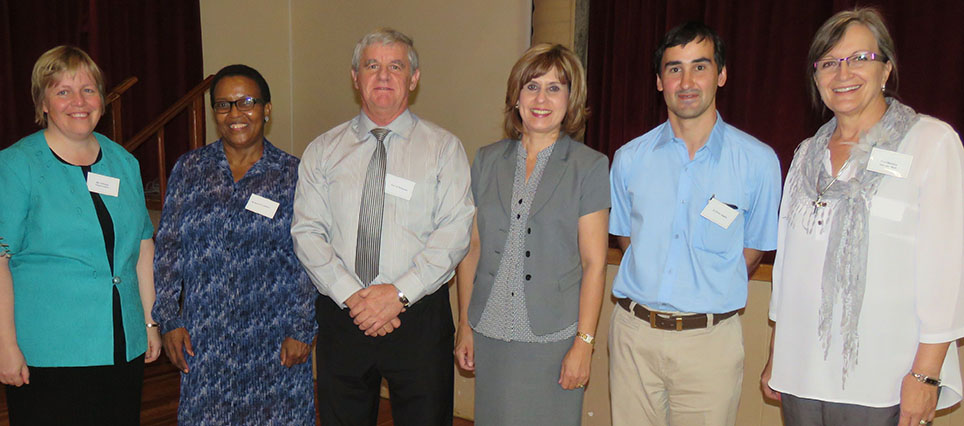 Drr Elfrieda Fleischmann, Maureen Ledibane, Prof JP Rossouw (research director of EduHRight), Ms Sukie van Zyl, Dr Divan Jagals and Prof Marthie van der Walt (programme leader) during the colloquium.