Dwayne Pocock – NWU Vanderbijlpark's big hitter
"In cricket, as in life, you need to know when to switch on and when to switch off – the rest will look after itself." These words by Sachin Tendulkar, regarded as one of the greatest batsmen of all time, rings particularly true for the North-West University's (NWU's) Dwayne Pocock.
Dwayne (23) is most definitely "switched on" and was recently named as the South African Club Cricket Player of the Week by the popular online forum: Club Cricket SA.
This talented hard-hitting right-hander is not only enjoying an outstanding professional run as of late, but also boasted a near double-century during the 2017/2018 Gauteng Cricket Board's premier League B championship. The latter saw him hitting 182 runs from a mere 122 deliveries (featuring 20 fours and 11 sixes) during the NWU Vaal Cricket Club's victory over Lenasia South Cricket Club.
In October 2017, this young alumnus of the NWU's campus in Vanderbijlpark, joined the ranks of his alma mater's Sport Department as a cricket coach and organiser. According to Dwayne the South African club cricket scene is very competitive. The NWU Vaal Cricket Club boasts three teams in club cricket leagues.
* Dwayne graduated from the NWU in 2017 with a BCom Financial Accounting degree.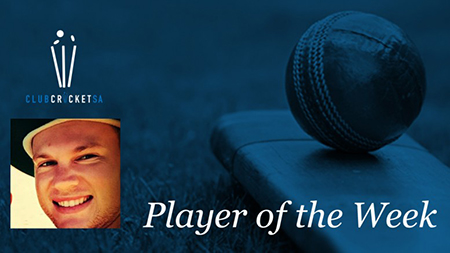 Dwayne Pocock – Club Cricket SA's player of the week.