Driehoek tragedy – NWU expert emphasizes the need for professional trauma counselling
On Friday, 1 February 2019, the country was shocked by the news of a walkway collapse at Hoërskool Driehoek in Vanderbijlpark.

Learners were leaving the morning assembly to go to their respective class rooms when tragedy struck. Three pupils: Roydon Olckers, Jandré Steyn and Marli Currie died at the scene, with a fourth, Marnus Nagel, succumbing to his injuries two days later in hospital.
In the wake of the tragedy, the North-West University's (NWU's) campus in Vanderbijlpark has stepped to the fore to assist learners and their families with trauma counselling.
In this opinion piece, Prof Hayley Walker-Williams, an associate professor in psychology in the School of Psychosocial Health, shares her thoughts on the steps that a professional trauma psychologist will have to follow in a bereavement and debriefing process.
Trauma – an event outside the range of normality
Trauma involves experiences that overwhelm a person's ability to cope. Trauma is a result of an adverse life experience, such as the devastating structural collapse at Driehoek Hoërskool.
The event was unexpected and outside the range of normality and control for the children, staff, families and community members involved. This event left those involved feeling overwhelmed and unable to comprehend or cope with the magnitude of the situation. Such a traumatic event brings with it a range of symptoms such as: shock, denial, anger, sadness, confusion, terror, grief, and sorrow. Other typical responses include: nightmares, flashbacks, startled responses (easily frightened and anxious), avoidance behaviours and problems with concentration.
Steps to follow
The first step in assisting survivors of such a trauma is to educate them that these symptoms and reactions are considered to be normal and expected after such an incomprehensible event. This is what we call normalising trauma symptoms where we explain to survivors that their symptoms are not a sign of weakness but instead a normal reaction to a devastating abnormal event.
The next step involves psychological debriefing. This is extremely important after such a traumatic event in order to reduce the psychological symptoms and responses and prevent the development of long-term negative outcomes such as post-traumatic stress disorder.
Debriefing as emotional first aid
Debriefing is a form of emotional first aid and involves speaking to a registered psychologist or social worker about their level of exposure, sensory experiences, and thoughts and feelings associated with the event. This must be done in a safe, contained healing space by an appropriately qualified professional so as to prevent further traumatisation.
Such ventilation and validation are necessary in order to give the individual an opportunity to begin to make sense of the post-trauma reality and in doing so begin to tolerate the distressing symptoms, acquire adaptive coping skills and re-establish some sense of autonomy. A crucial ingredient in this process is providing survivors with psycho-education i.e. information on what to expect following the trauma in terms of how they will think, feel and behave and more importantly how to go about coping with these thoughts, emotions, and reactions. 
Debriefing is usually conducted 24 to 72 hours after the trauma. The "dose" of the trauma will then determine whether longer-term psychotherapeutic intervention is necessary. This means that the closer the individual was to the event or effects of the catastrophic event, the more severe their level of psychological distress will be.
Longer-term psychotherapeutic intervention will thus be required when the trauma "dose" is greater and the individual's symptoms continue to significantly impact their functioning at home, work or school after receiving initial trauma debriefing.
Overall psychological treatment can assist the individual in making sense of the inconceivable event, appropriately experience and regulate the difficult associated emotions, thoughts and reactions in a save contained environment. Furthermore it assists the individual in navigating the different phases in the recovery aftermath. There is no recipe for trauma recovery and each person will react differently what is universal is that communities come together in time of trauma and offer comfort and support.
Please contact the School of Psychosocial Health on the campus in Vanderbijlpark or Prof Hayley Walker-Williams, clinical psychologist, on 016 910 3413 for further assistance or enquiries.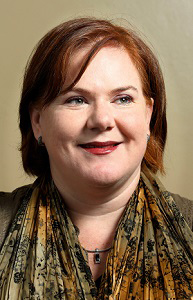 Prof Hayley Walker-Williams.