Draught-ox expert receives master's degree at 75
Ever since he was a little boy he learnt how to work with draught-oxen by listening to the "old people" and fundi, and today he is one of the few experts in the country on this topic.
Marius Oosthuysen recently received his master's degree from the North-West University (NWU) at the age of 75. He was the oldest student to receive his master's degree at the autumn ceremony.
The title of his dissertation, "Die Trekos en trektoerusting in Suid-Afrika: 'n historiese perspektief" (The draught-ox and draught equipment in South Africa: a historical perspective), is the product of all the knowledge and experience that he has gained over the years.
Marius says the purpose of the dissertation was to record all his knowledge in order to preserve it for future generations. His supervisor, Prof Kobus du Pisani, said he corrected very little in the dissertation, as it was clear that Marius had a passion for and an amazing knowledge about draught-oxen. His co-supervisor was Prof Matilda Burden of the University of Stellenbosch.
Marius is a farmer in the Eastern Cape near Alexandria and has been married to Hester –whom he met at school in Kirkwood – for 52 years. He completed his undergraduate studies (BSc) as well as his BScHons at the University of the Free State.
Marius says he saw and learnt how to work with draught-oxen ever since he was a little boy. His other hobby, processing hides for riems (straps) for draught-oxen, was a natural outcome of this interest.
His two daughters, Sanderi Oosthuysen and Marie Roodt, also attended his graduation ceremony, together with three of his grandchildren. The youngest, Tarien, is currently a first-year dietetics student at the NWU's campus in Potchefstroom, while the other two have already obtained their degrees at the NWU. Benn Roodt is currently a pharmacist in Moorreesburg and Sreandi Bronn an industrial psychologist in Port Elizabeth.
Marie said her father started his studies in 2011 when Sreandi and Bennie were first-year students at the NWU, and has now received his degree in the year that the youngest grandchild, Tarien, is a first-year student.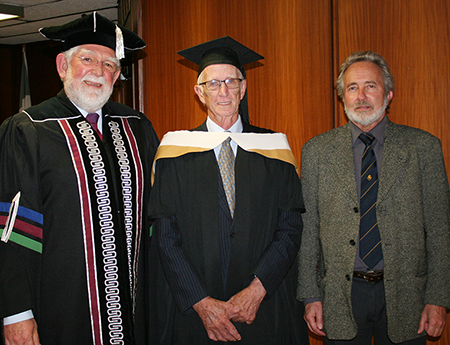 Prof Fika Janse van Rensburg, acting rector of the NWU's campus in Potchefstroom, Marius Oosthuysen, master's degree student and Prof Kobus du Pisani, his supervisor.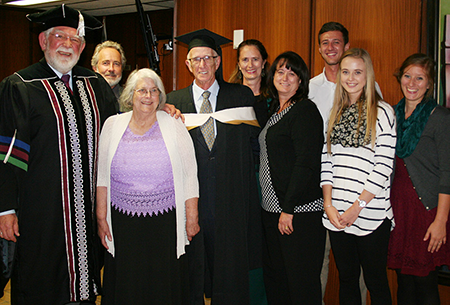 Mr Marius Oosthuysen with his family who attended his graduation ceremony in Potchefstroom. From the left are Prof Fika Janse van Rensburg, acting campus rector, Prof Kobus du Pisani, his supervisor, Hester Oosthuysen, spouse, Marius, Sanderi Oosthuysen, daugter, Marie Roodt, daughter, Bennie Roodt, grandson, Tarien Roodt, granddaughter and Sreandi Bronn, granddaughter.