Doctoral study bridges the gap between BPM and SME within a South African milieu
During the recent October Graduation of the Vaal Triangle Campus of the North-West University (NWU Vaal) the degree Doctor of Philosophy in Information Technology was awarded to Dina Elizabeth Jacobs.
In her thesis:  An approach to assist managers of Small and Medium Enterprises (SME) to benefit from Business Process Management (BMP), Prof Jacobs developed the BPM @ SME Approach relating business process management and the transitions associated with small and medium enterprise growth. The study considered constraints in the South African milieu, such as limited growth of SMEs, the lack of business skills of SME managers and the reality of resource poverty. The development of the BPM @ SME Approach is a step towards fulfilling the need to increase the level of awareness of SME managers regarding the role of BPM during SME growth. According to the promoter of the study, Prof P Kotzé, the approach is supportive of the requirement of self-sufficiency and over time will contribute towards SME growth and job creation.
More about Dr Jacobs
Born on 7 February 1963 in Bellville, Dina Jacobs completed matric in 1981 at Hoërskool Christiana. In 1983 she enrolled for a BSc degree at the University of Pretoria, which she completed with distinction in 1985.   She completed an Hons BSc in Computer Science in 1987 at the University of Pretoria, followed by an MSc (Information Systems) in 2008 at the University of South Africa.  The title of her Masters dissertation was: Towards a business process model warehouse framework. 
She was appointed as the CEO of triVector in 2007, which provided her with the opportunity to gain experience in the management of small and medium enterprises. She has more than 20 years' experience as business consultant in the business process domain.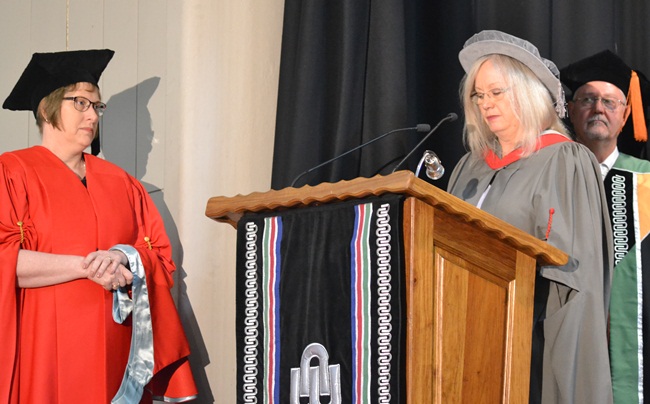 Dr Dina Elizabeth Jacobs with her promoter Prof P Kotzé 
Location
Vaal Triangle Campus
Hendrik van Eck Boulevard
Vanderbijlpark
South Africa