A diabetic aware campus, is a diabetic smart campus
With the year nearing the end, most people will spend the next month getting ready for the festive season - enjoying big family lunches, lounging around and inevitably over-indulging. Mr Christiaan Bekker from the School of Behavioural Sciences on the Vaal Triangle Campus of the North-West University (NWU Vaal) took up the challenge to remind staff and students about the importance of being diabetic smart.
 November is national Diabetes Awareness Month and as such Christiaan – who refers to himself as a "diabetes activist", embarked on a two-day awareness campaign targeting staff and students. His goal? To test the glucose levels of as many members of the Campus community as possible since knowing your diabetes status is the first step towards a healthier lifestyle.
Diabetes in a nutshell
While we probably all know the basics of diabetes, someone who suffers from it (perhaps a friend or a family member), but how many of us actually tests our glucose levels on a regular basis?
This question prompted Christiaan to join thousands of South Africans by embarking on an intensive awareness campaign regarding the prevalence and treatment of diabetes. His two-day campaign, took place at the Student Centre.
According to Christiaan early detection of the disease could save more than just lives but money too. "Diabetes affects a person's financial security and ability to work", he explains. He further says that many people fail to seek medical help until the complications have progressed.
During the campaign, a large cohort of students, most of who were writing their exams, got tested for the disease. Most of the first time testers were afraid until Sr Mapeete Malumba, the Campus Clinician, explained the procedure to them.  One of those who got tested, Constance Manyobe, a first year Law student commended the Campus for hosting the campaign and said more of such initiatives are needed.
"I really feel good after taking this test; it was very quick and pain-free.  As students we tend to eat a lot of fast food especially during examination period, and therefore I believe that it is important that we get confronted by campaigns such as this one since it forces us to know our health status," said Constance. She furthermore said that she would actually encourage every student to step up and take charge of their own health.
November is National Diabetes Awareness Month (NDAM), an international initiative focused on raising awareness for all forms of diabetes, its signs and symptoms, and to gain support for critical research toward preventing the condition, better treatment and ultimately curing all forms of the condition / illness.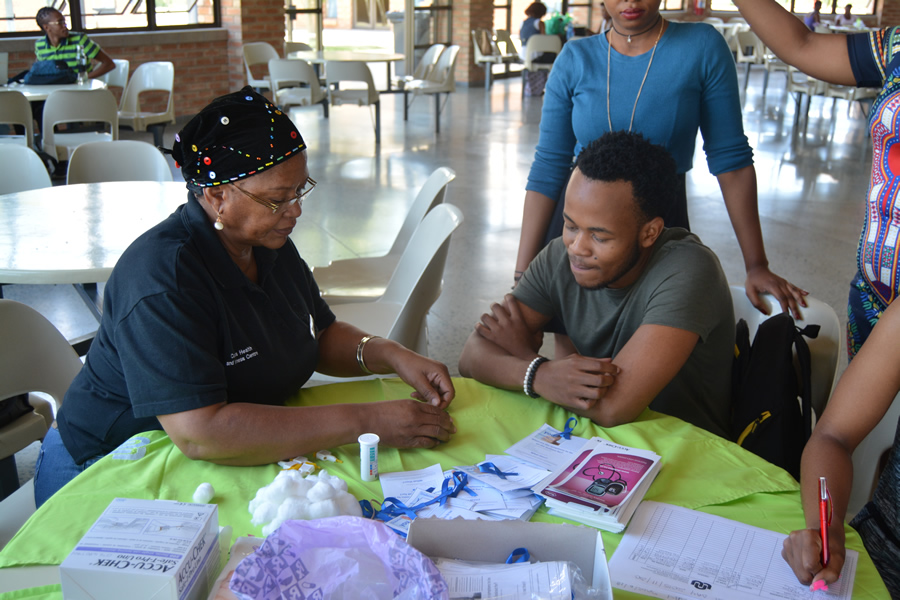 More about National Diabetes Awareness Month
According to the World Health Organisation (WHO), South Africa has the second highest prevalence of diabetes in Africa, with Nigeria having the highest prevalence with an estimated 2.6 million people diagnosed with diabetes. In 2013, 5.1 million people died from diabetes compared to 1.5 million deaths due to HIV/Aids.
Hayley Taylor, managing underwriter at Altrisk Insurance providers, said, "According to the Centre for Diabetes and Endocrinology, it takes about seven years for a person to be diagnosed with diabetes for the first time, but about 30 per cent of people with Type 2 diabetes have already developed complications by the time they are diagnosed. These complications are very likely to have an impact on your ability to earn a living, jeopardising your present and future financial security. This is why it is important to have long-term insurance in place to protect your finances."
Early detection saves more than just lives
Early detection of the illness could certainly save more than just lives but money too. Diabetes affects a person's financial security and ability to work. According to Taylor, many people fail to seek medical help until the complications have progressed.
National Diabetes Awareness Month encourages people to make healthier decisions and adopt an active lifestyle. However, it is important to note that diabetes is manageable and many people that have been diagnosed are embracing it positively.
Taylor adds "If you are a diabetic you have to understand and control your condition. The complications of diabetes are less severe in people who have well-controlled blood sugar levels. It is also important to note that wider health problems accelerate the destructive effects of diabetes. These include smoking, elevated cholesterol levels, obesity, high blood pressure and lack of exercise.
Type 1 vs. Type 2 Diabetes – what is the difference?
Type 1: diabetes, also known as juvenile diabetes, usually begins in childhood or adolescence. It occurs as a result of a faulty auto-immune response that causes the body to destroy the pancreatic cells that produce insulin, which in turn leads to an insulin deficiency.
Type 2: diabetes, also known as slow- or adult-onset diabetes, takes many years to present. In the case of Type 2 diabetes, insulin is produced, but the body's cells do not respond to it correctly. Instead, the body becomes resistant to insulin.