A deeper look into Herman Charles Bosman's work
The English Department at the Potchefstroom Campus of the North-West University (NWU) has once again chosen the life and works of Herman Charles Bosman, the eminent South African author, as the focus of its biennial lecture series.
According to Dr Michelle du Plessis-Hay, the reasons are several. "Bosman spent much of his youth in Potchefstroom, and the NWU is mainly based in the North West Province, the setting for many of his more famous short stories. Furthermore, Bosman wrote in and brought together English and Afrikaans in a number of subtle and interesting ways. As an English Department based in a predominantly Afrikaans institution we have decided to celebrate this bringing together of languages and cultures, by providing the platform for a series of prestige lectures that are at once scholarly but also, in memory of Bosman, entertaining and topical. Lectures which touch on Bosman's life and work as well as on cultural, literary and linguistic contact and mixing are the focus of the series," said dr Du Plessis-Hay.
This lecture series also forms part of a larger campus project of celebrating the work of writers from Potchefstroom and the North West Province, including a T.T. Cloete lecture series, the placement of Cloete plaques in the North-West University Botanical Garden, and the hosting of statues of Sol Plaatjie on campus. 
Following previous lectures by Annette Combrink (2012) and Craig MacKenzie (2014), the third lecture in the series was delivered by Bertus van Rooy, a professor in languages at the North-West University. His principal specialisation is varieties of English. In recent years, he has been working on the mutual effects that contact between Afrikaans and English has had on the grammars of each language.
He approached Bosman´s use of English to portray Afrikaans speakers from a corpus-linguistic perspective, and asked whether such an approach can complement and perhaps add to the body of insight already developed by scholars using more established literary approaches.
Prof Attie de Lange, Acting Dean of the Faculty of Arts, said it is gratifying to present such initiatives on the Potchefstroom Campus. "This is yet another proof that we are not only stimulating teaching and learning through this, but we are also creating the opportunity to take the love of research to greater heights."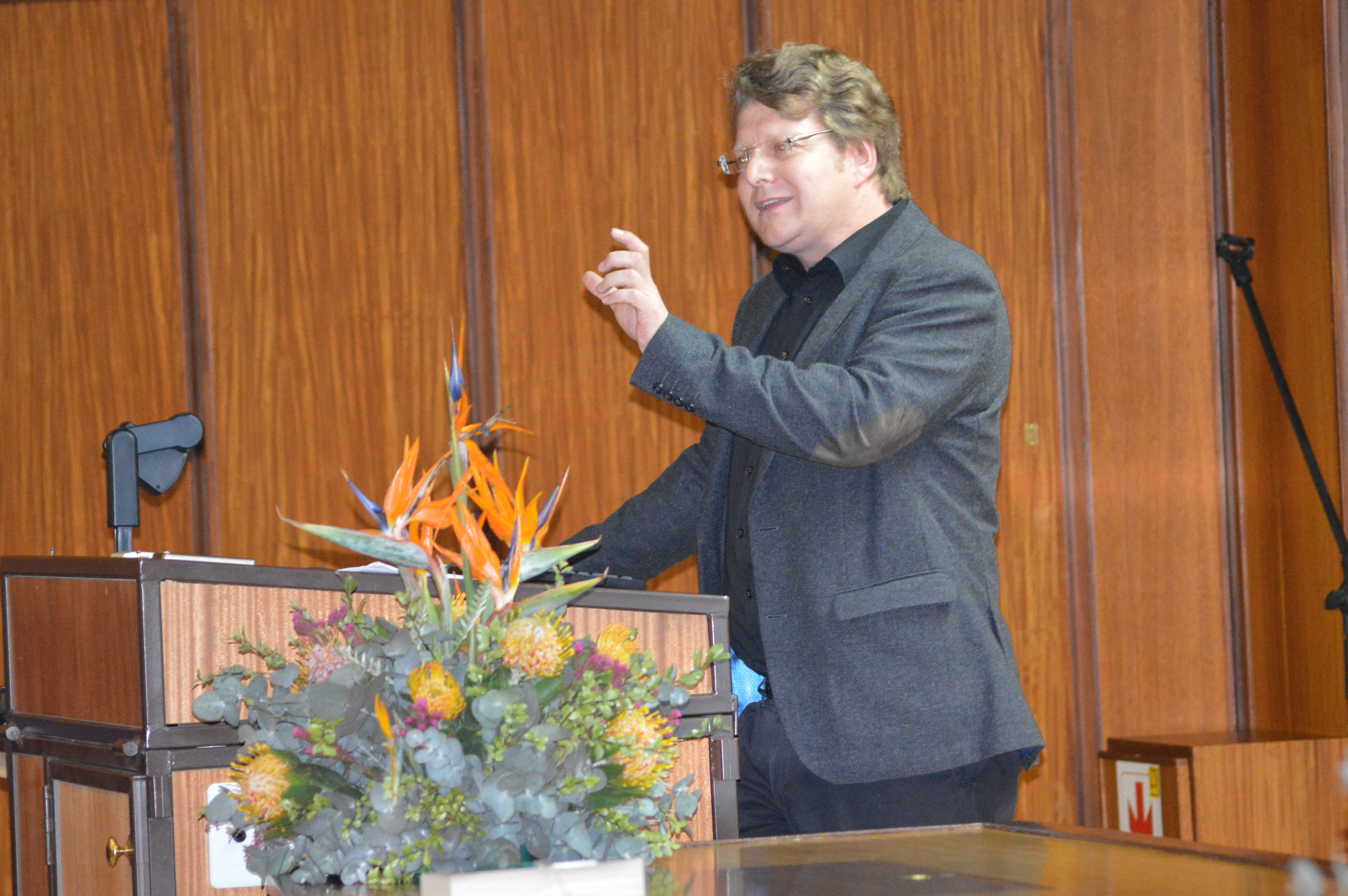 Prof Bertus van Rooy was this year´s spreaker at the biennial Herman Charles Bosman lecture series.