Cynthia – a force to be reckoned with in NWU basketball
When Cynthia Mudau steps onto the basketball court, you can be sure of one thing: she is ready to make her presence felt, especially on the score board.
This 22-year-old star basketball player from the Vanderbijlpark Campus of the North-West University (NWU) was recently lauded as the Most Valuable Player during the University Sport South Africa (USSA) tournament. The acclaim follows after a trying season during which Cynthia was sidelined for close to three months because of an injury.
According to this star player, she had trained for only a week before the USSA tournament and she had to take it easy thereafter because she was not fully healed yet.
"My coaches used me wisely during the tournament and our team played very well," says Cynthia. She adds that it was a disappointment when the team lost in the final. She remembers feeling that she could have done more, but had been prevented from doing so by her injury.
Early acclaim
Born and raised in Soweto, Cynthia, who is also a member of the USSA national squad, showed an early knack for sports and excelled in athletics, ballet and netball. She matriculated in 2015 and finished her high school career on a high note when she was crowned as the Gauteng Secondary Sports Woman of the Year.
"It was just an amazing moment for me because I had never thought I would win such a prestige award," says Cynthia, who at that time played basketball in her free time.
There is no substitute for hard work
Cynthia recently obtained her degree in International Trade and is currently studying towards a degree in Marketing. She is adamant that there is no substitute for hard work.
 "I am very athletic. I can run and jump and have great stamina to boot. As much as the talent was there, it took a lot of hard work for me to reach the top. I believe that in anything you do, whether it is in sport, in work or in your personal life, you have to give everything you have. Take time to learn from others and ask for assistance if need be," says Cynthia.
And what is next for her? "I dream of winning both an USSA and a Varsity Cup tournament with my NWU family!"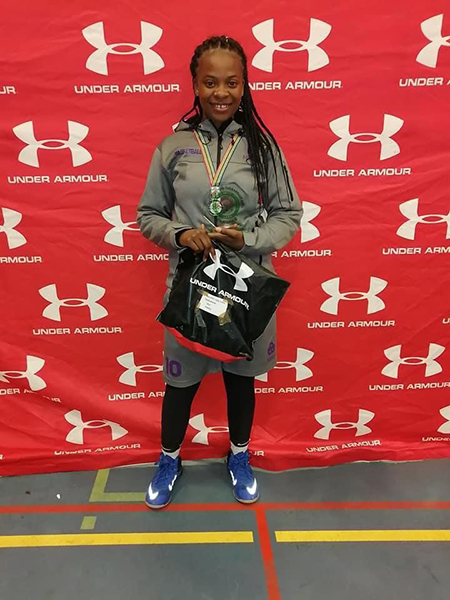 Cynthia Mudau