Child health enjoys massive interest – national conference
The North-West University's (NWU's) campus in Potchefstroom recently hosted a very successful Child Health Priorities Conference, which attracted some 260 delegates, and even the likes of South Africa's First Lady, Dr Tshepo Motsepe.
Under the theme "Survive, thrive and transform – championing change for children", the conference provided a platform for child healthcare practitioners, academics and advocates to engage on the opportunities available to and challenges faced by South African children.
The conference also showcased best practices in child healthcare in sectors such as health, social development and non-governmental organisations. Participants shared information on key public and private health strategies to address child health and child development.
The conference followed shortly after the United Nations celebrated Universal Children's Day on 20 November 2019 and marked the 30th anniversary of the United Nations Convention for the Rights of the Child.
The First Lady, Dr Tshepo Motsepe, delivered the keynote address and undertook this engagement in her capacity as patron of the South African Civil Society for Women's, Adolescents' and Children's Health (SACSoWACH).
"The conference organisers can be very proud of their commitment towards children's health," said Dr Motsepe. "There are many countries in the world that do not embrace children's health, and we are privileged to have it written into our Bill of Rights.
We are here because we have a deep concern for those children without a childhood – children for whom mere existence is a struggle, and for whom a plate of nutritious food, or a pair of school shoes, is a luxury. We know that the spectre of inequality looms large in this country, and that it fundamentally impacts our progress in improving the health outcomes of the young boys and girls of our nation. The many social challenges that continue to plague us – unemployment, of poverty, of violence both inside the home and on the streets – are felt most acutely by our children. We cannot significantly improve the health of children if their most basic needs – food, of shelter, of safety – are not in place."
She commended the organisers of the conference for the initiatives and excellent attendance.
"Child health does not stand in isolation, and improving health outcomes necessitates collaboration with multiple stakeholders on platforms such as this one. I am also immensely encouraged to learn that the Centre of Excellence for Nutrition here at the NWU has a focus on nutrition in early child development, and is working with Grow Great to explore how we can improve children's nutrition. I pledge my unqualified and sustained support to this conference," she added.
The conference saw various healthcare professionals, researchers and academics elaborating about topics such as:
The Landscape of Child Health in South Africa countdown to 2025
Looking beyond child survival
Future directions to improve health equity for children
Global strategy for child and adolescent health
Zero stunting by 2030
Early caregiver-child communication interaction
Support towards the first 1 000 days – at-risk caregiver-infant relationships
Training needs and challenges of SA healthcare professionals supporting early life nutrition
Mortality in children in South Africa
Child deaths in North West
To bury a child
Keeping children safe
Child mortality
Childcare for optimal development
Bullying and self-perceived psychosomatic symptoms
According to the World Data Atlas, the child mortality rate for South Africa in 2018 was at 33,8 deaths per 1 000 live births. This rate had fallen gradually from 71,7 deaths per 1 000 live births in 1999. However, according to Dr Neil McKerrow, a provincial paediatrician for the Department of Health in KwaZulu-Natal, research indicates that many child deaths are not even reported, and that it is a very alarming situation.
The World Health Organisation reports that the main reasons for the decrease in child mortality can be attributed to declining reports of malnutrition, better standards of healthcare, and an increase in child vaccinations. The death rate from diarrhoeal diseases and pneumonia has also decreased quite significantly since 2008.
During the three days of the conference, the audience and speakers frequently engaged in panel discussions and critical reflections. This was followed by a variety of practical workshops, which took place on the last day.
One of the attendees, Dr Tumelo Leeuw, is a newly appointed district paediatrician in North West. "This is the first time that I attend this conference, and I must congratulate the organisers with a very insightful programme.
"The conference offered a wonderful opportunity to learn from various healthcare professionals. From the speakers' presentations and comments from the audience it is evident that the South African healthcare sector has the right plans and initiatives and – in many cases – sufficient staff. However, the dire need for proper implementation exists," Dr Leeuw said.
Dr McKerrow mentioned that the scope of research being presented at this year's conference was at a very high level. "Delegates from all over South Africa and even from outside our borders attended the conference – that is impressive! Well done to the NWU for hosting an excellent event."
Sr Petro Swanepoel, mother, child and women's health coordinator for the Tlokwe subdistrict, elaborated on the research presented from various avenues. "This gave me insight and ideas that can be used at a public-healthcare level to make a difference in child health outcomes. The conference was very informative and empowering."
During the conference many wonderful initiatives and plans in the public healthcare sector – all to the benefit of child healthcare – were acknowledged. However, the worrying part is that these initiatives and plans are rarely implemented. The general feeling was that the time has come to apply more pressure to get these initiatives rolled out.
The next Child Heath Priorities Conference will take place in the Eastern Cape. Specific dates and venues will be communicated in due time.
Video:
https://www.youtube.com/embed/5OrAjxqXPBQ?rel=0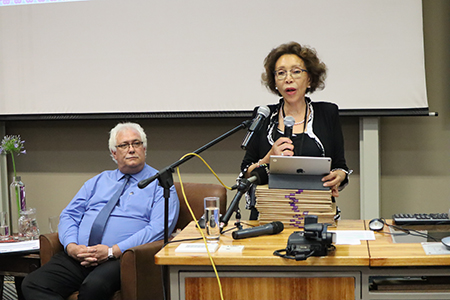 South Africa's First Lady, Dr Tshepo Motsepe, delivered the keynote address at the recent Child Health Priorities Conference. With her is Prof Awie Kotze, executive dean of the NWU's Faculty of Health Sciences.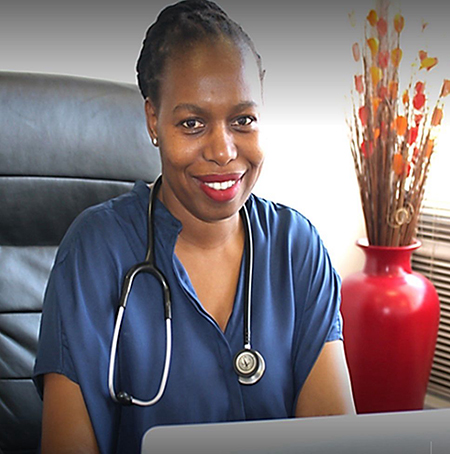 Dr Tumelo Leeuw.
(Photos by Chantel Witten)