Celebrating the nation's diversity
The North-West University (NWU) ended September – also known as Heritage month – on a high note.
The Student Campus Council (SCC) and the library on the campus in Mahikeng celebrated Heritage Day with music, drama and traditional food. With that they embraced the national theme of, "Reclaiming, restoring and celebrating our living heritage".
On this special day all South African citizens are encouraged to celebrate their own culture within the beautiful diversity of cultures, beliefs, and traditions that make up our unique nation.
The campus pulled out all the stops. Various types of food and songs, dances and plays represented the different cultures on campus. Various artefacts from different cultural groups were also on display.
The NWU cultural dance group ended the activities of the day with a Setswana dance performance.
"It is important to celebrate our diversity", said Charmaine Mohopo, arts and coordinator on the campus. "It is our diversity that makes us the unique nation we are."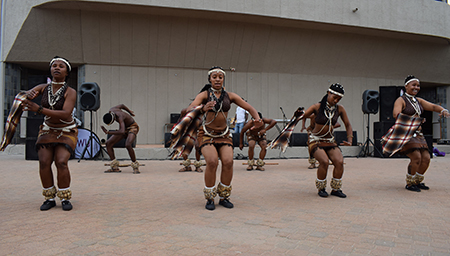 The NWU cultural dance group performs a Setswana dance.