Campus students prove their mettle at continental competition
VANDERBIJLPARK- Remember the names Tshegofatso Khutsoane and Lesego More, who are studying towards becoming legal practitioners of note. The two recently represented the NWU Vaal at the 24th annual Moot Court Competition which took place at the University of Zambia, in the Republic of Zambia.
Tshegofatso Khutsoane and Lesego More, both third year law students from the Vaal Triangle Campus of the North-West University (NWU Vaal), did the Campus proud when they participated at the 24th annual Moot Court Competition that recently took place at the University of Zambia in the Republic of Zambia.
They had been selected from a pool of aspirant student legal practitioners to attend and represent the Campus at this year's competition, after undergoing an intensive internal screening and preparation process organised by the School of Basic Sciences within the Faculty of Humanities. This process already started in April of this year.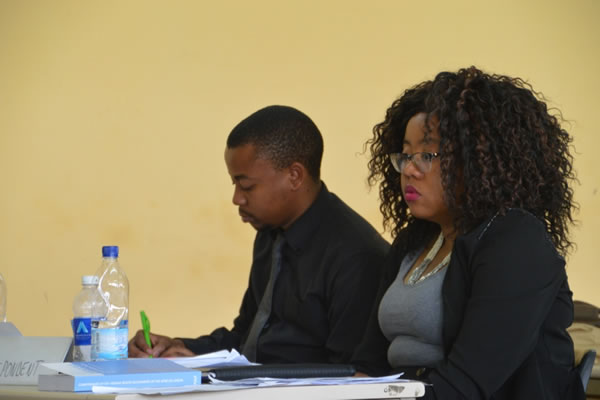 Continental five day competition
During this five day competition Tshegofatso and Lesego proved their mettle as they battled it out with their peers from over 139 universities, representing 49 African countries. It is an annual event organised by the Centre for Human Rights in partnership with Law Faculties at several universities, which then take turn in hosting the event on the continent.
According to Tshegofatso, who hails from Sasolburg, the competition honed her advocacy and research skills. "I really wouldn't say that the competition was tough or nerve wrecking, but it was certainly an eye-opener since I had to think and react on the spot," she adds. She further says that this competition is a wonderful opportunity – especially for students, as it puts their academic skills they acquire in class into practice. She hopes to return to the competition in 2016.
Since its establishment in 1992, the competition aims to prepare and skill a new generation of legal practitioners to argue with logic and reason, cases of alleged human rights violations before the newly established African Court for Human and People's Rights. The latter is operational since 2008. 
Dr Ilyayamba Mwanawina, a Senior Lecturer in the Department of Law and coach to the team, said the team preformed beyond expectations– especially for a Campus that only made its debut in the competition in 2014. "In order to do better next time and to improve our rakings on the continent, we have decided to commence training a bit earlier in 2016", he concludes.
In addition to the appreciation of human rights, this year's hypothetical case explored aspects relating to: freedom of expression, academic freedom, rights and welfare of children, mining safety law and rights to health and healthcare. Another one will be held next year with the date and host university to be announced by the organisers.