Campus breaks ground on construction of law building
On Thursday 28 July 2016, the North-West University´s (NWU´s) Mafikeng Campus broke ground with the official announcement and unveiling of the construction of the long-awaited campus law building at a well-attended sod-turning ceremony.
The ceremony, attended by campus executive management, School of Law management and eager law students, put into effect seven years of planning and negotiations with stakeholders to try to secure funding for the project. 
"It is a pleasure to be standing here to officially announce and unveil the site for the construction of the new campus law building.This is a  journey that spans over a period of seven years, a unique project when one takes into account that all the other buildings that have been erected on campus were funded through sponsorships, this building being the only construction being funded from beginning to completion by the university," said Prof Mashego, Director of Special Projects.
The new single storey law building will boast a state of the art mock court room, spacious and technologically-advanced lecture halls and a well-equipped community Law Centre all under one roof. The building is expected to be completed on 4 August 2017.
"It has been a long time coming. Our department has had to work in cramped offices but has remained resolute in our hope that one day we will have our own building where we can teach and produce young legal minds and service our communities through well-equipped facilities," concluded Prof Mbao, Dean of the School of Law.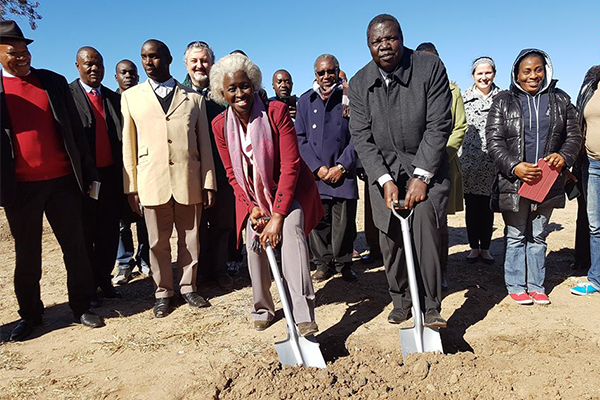 Campus breaks ground on construction of law building