Book is a comprehensive guide to javelin throw
South Africa's first visual guide to the javelin throw has been launched in Potchefstroom. The book, Science and practice of the javelin throw, by world-renowned coach, Terseus Liebenberg, is a treat for all javelin throw enthusiasts.
Liebenberg, who boasts a celebrated sports career of 24 years at the North-West University (NWU), is an expert in the field and is currently Olympic heroine Sunette Viljoen's coach.
He has coached some of the most successful javelin throw athletes such as world champion Marius Corbett, record holder Justine Robbeson and young rising star Jo-Ané Van Dyk.Liebenberg was instrumental in establishing a javelin centre of excellence at the Potchefstroom Campus of the NWU. He is widely considered the most successful South African coach since the country's readmission to international competition in 1992.
Javelin throw specialists Kari Ihalainen, Dr Klaus Bartonietz and Jan Železny contributed to the book, which is not only an informative and essential training guide, but also a visual delight.
It is richly illustrated with photos of cream-of-the-crop of javelin-throw athletes in action, instructional sketches and informative graphs and tables.
Chapters include the history of the sport, mastering the technique of javelin throw, a training programme and mental toughness, among others.
Uwe Hohn, world-record-holder with the "old-model javelin – 104,80 m", says the book is of specific importance to all athletes and coaches who are looking for new ideas and answers and find it difficult to distinguish between javelin-throw training principles that are relevant and those that are not.
"Terseus gives answers to almost every question you could have about training and the technique for javelin throwing," he says.
The book was launched with the support of the NWU's Technology Transfer and Innovation Support Office. Liebenberg dedicated the book to his late wife, Estelle, who he says was his biggest supporter and inspiration in his career.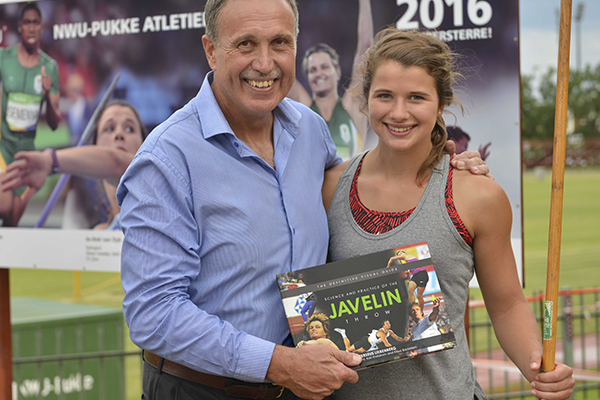 Terseus Liebenberg's vision of a definitive visual guide to the javelin throw resulted in the essential guide to the sport, Science and practice of javelin throw, which was recently launched at the Fanie du Toit sports grounds in Potchefstroom. The book offers valuable information on all aspects of the sport to enthusiasts and athletes such as African Junior Champion Jo-Ané van Dyk, who gave a demonstration at the launch.