Awards galore – the GIFT that keeps on receiving
A mere two months after being named Distinguished Young Woman Scientist in Social Sciences by the Department of Science and Technology, Prof Nicolene Barkhuizen received three more accolades from the South African Board of People Practices (SABPP).
Prof Barkhuizen is the director of the North-West University's (NWU's) Global Innovative Forefront Talent (GIFT) research niche area on the campus in Mahikeng. Part of the Faculty of Economic and Management Sciences, this research area currently contributes to the advancement of talent management practice in various government, corporate and community settings.
GIFT shone bright during the SABPP's 6th Annual Standards Summit, and walked away with the following three awards:
1      Best HR standards consulting product/service/CPD provider – for the GIFTBACK community development programme under the leadership of Prof Nico Schutte and Rev Peter Malan.
2      Best HR Standards Research Paper or Dissertation of the Year – Deborah Mokgojwa, Prof Nicolene Barkhuizen, Prof Nico Schutte
3      Best HR Standards Academic of the Year – Prof Nicolene Barkhuizen
This annual summit aims to consolidate the leadership and HR standards gains of the past six years since its inception. It also charts the way forward in preparing companies for the 2020 workplace of the SABPP.
"We believe that talent is a free gift for life and needs to be cultivated to unleash the potential of individuals," says Prof Barkhuizen. "When we are honoured with awards such as these, we know that we have aimed and accurately hit the target."
More about GIFT
GIFT adds value to the industry by providing companies with the strategy and tools to attract and retain talented employees. They help them to develop an accurate staffing model, identify and exploit talent, make informed talent decisions and react proactively to changing circumstances. 
GIFT also empowers a future generation of scientists with more than 50 master's and PhD students currently enrolled in various areas of talent management.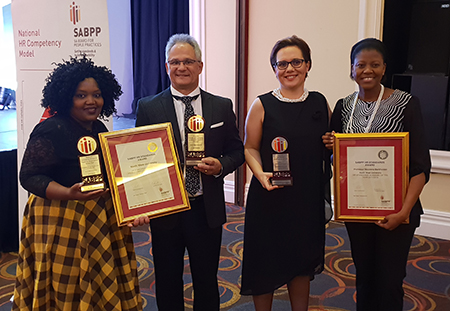 From left are Devorah Mokojwa, Prof Nico Schutte, Prof Nicolene Barkhuizen and Prof Kelebogile Paadi, director of theNWU's School of Industrial Psychology and Human Resource Management.