Annual "Living with Cancer Symposium" a huge success
The Faculty of Health Sciences of the North-West University (NWU), in collaboration with the Wilmed Park Oncology Unit hosted the annual living with cancer symposium. The theme of this year's symposium was Supporting the cancer patient. 
A number of speakers, representing various health professions, cancer patients and family members, contributed towards the programme. Riaan Venter had the audience reflecting on various dietary myths related to cancer; Carien van der Merwe shared very interesting information on oncology pharmacy in the chemotherapy treatment of cancer patients and Prof Hanlie Moss motivated all to get active and remember that exercise contributes towards quality of life.
Derryth Wiggill led the audience into the radiation room with very interesting audio-visual material of the highly sophisticated medical technology and the role of the medical physicist in radio therapy.  Prof Minrie Greeff reminded everyone about the importance of patient confidentiality and what health professionals, family members and other patients should consider when they have access to the personal and medical information of cancer patients. Dr Wilhelm van Zijl discussed the realities of what happen when the member of a medical aid becomes a cancer patient and Corlia de Beer shared their family's journey with neuroblastoma. Her daughter was diagnosed with this type of cancer at the age of 8 months old and how a Facebook group supported and inspired them through tough times, but also allowed them to inspire others.
Dr Welma Lubbe gave more insight into the patient's journey in sharing her own experiences with breast cancer and how it affected herself and her roles as wife and mother. Rev Marius de Beer reminded all that there are no quick fixes in life, but that God is our hope – even in the face of cancer.  In conclusion, Kagiso Mojanaga introduced Bicycle Friday, where a group of volunteers literally cycle the talk for cancer.  Every Friday this group cycle to communities with limited access to information about cancer to raise awareness and counteract myths and misconceptions.
On 12 August 2016, this group will host a march to raise cancer awareness.  The march will start at Ikageng stadium and end at the Trim Park in Potchefstroom.  Members of the community are invited to participate.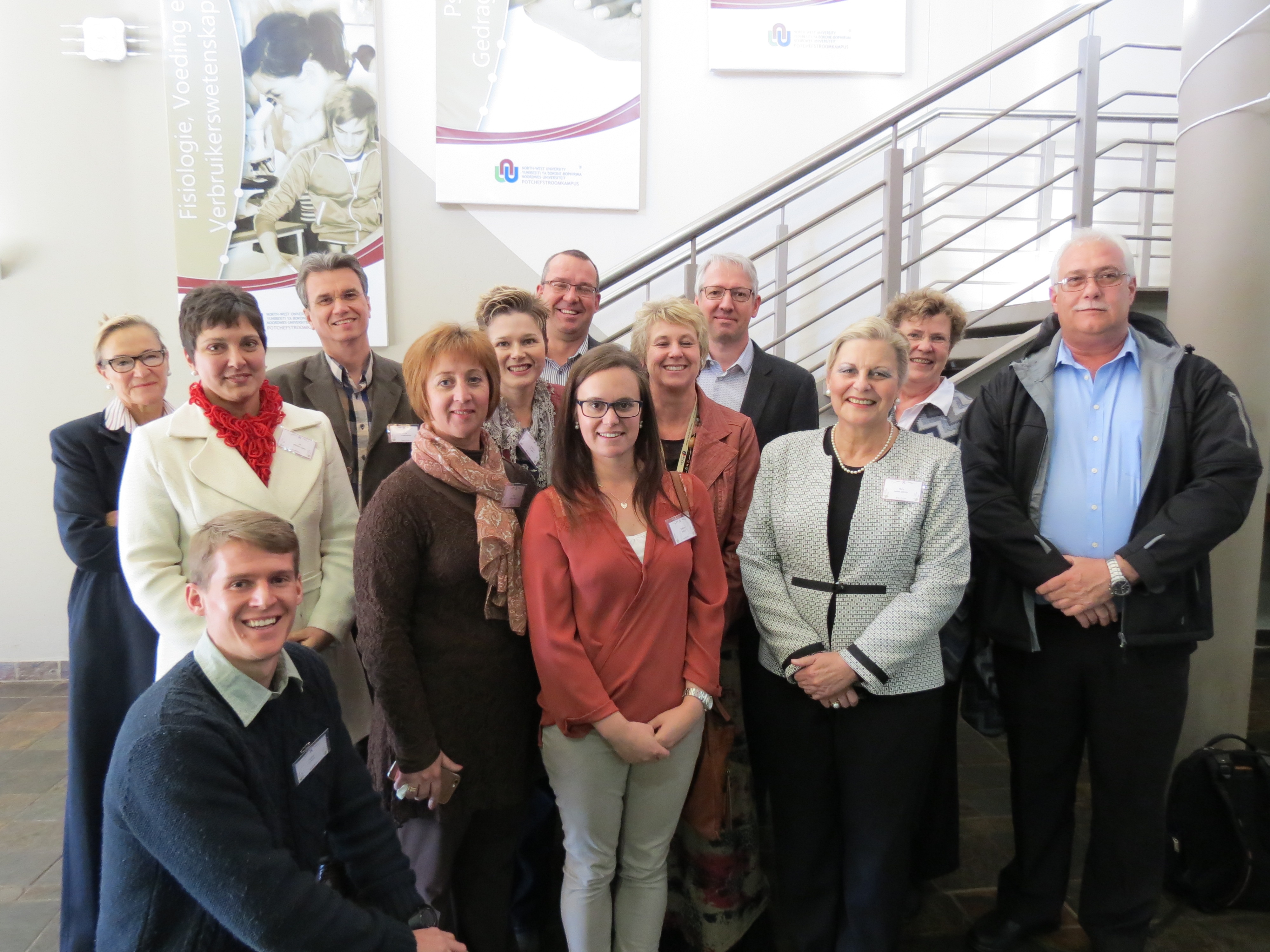 Speakers at the "Living with Cancer Symposium was in the front - Riaan Venter, Prof Hanlie Moss,  Derryth Wiggill, Prof Minrie Greeff, Prof Awie Kotzé (Dean Faculty of Health Sciences)
Middle - Dr Welma Lubbe, Corlia De Beer, Prof Alida Herbst, Carien van der Merwe
Back - Dr Adri Oosthuizen, Dr John Duminy, Reverend Marius de Beer and Dr Wilhelm Van Zijl